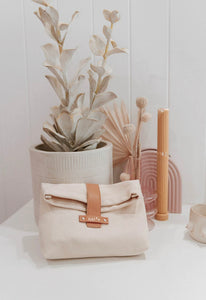 Introducing our new toiletries bag made from recycled cotton. It's the perfect little bag to place all your goodies in, plus she looks cute on your bathroom counter. 
About Recycled Cotton 
Our new toiletries bag is made from recycled cotton and recycled PVB. Recycled cotton can be generally defined as converting cotton fabric into fibre in all textile products. This helps to reduce the use of virgin cotton, the significant water usage, C02 and other impacts from cotton farming.