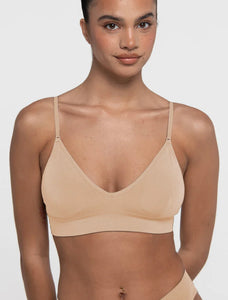 Low-V crop
Wire-free
Removable padding
Short waistband
Cross strap option
78% Lenzing Tencel, 17.8% Polyamide and 4.2% Elastane
What's new? Her signature low-V still keeps her out of sight, even under the plungiest of necklines - but we've given her bust just a li'l adjustment. 
There's now a tad more coverage above the super soft waistband to help keep the girls just where you want them. 
She still sits smoothly under a tight tee or a light fabric, but now she has a little extra trick up her sleeve (or more accurately, in her bust). Now with removable padding, you can alter your crop to suit your mood, and your outfit.
What we haven't changed:
She's still the chameleon of the nat'v collection, and is just as comfortable under that special occasion dress as she is chilling on the couch. Need that clean line look under a racerback or halter? She's got your back - just cross her straps over and she's good to go.
She's wire-free for your pleasure and oh so soft in our signature blend of Lenzing Modal fabric. Crossing the straps at the back also offers a little extra support when you need it, making her not only a versatile sort for your wardrobe, but a super comfy day-to-night crop.