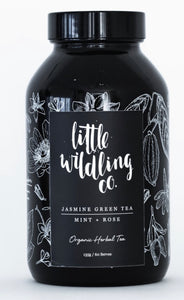 Want the energy boost that green tea provides with a side of flavour and luxe? Then turn the kettle on my friend because you have found your Moroccan inspired blend!
INGREDIENTS: Jasmine Green Tea, Mint and Rose .
INSTRUCTIONS: water temperature is important for green tea. Too hot and the loveliness will soon turn to bitterness. Either pour the hot water into your tea pot/cup and let cool for 2-3 minutes then add the leaves (1 teaspoon per cup) or whip out your trusty thermometer and wait until the water temp reaches 79°C before pouring over the blend. Experiment with steeping time but we recommend a range between 2-4 minutes.