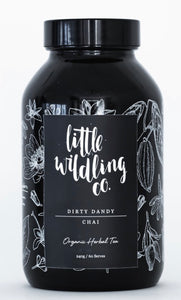 Lover of chai? Of course you are! Breaking the mould (just like you, you little minx) the Dirty Dandy blend is a divine mix of organic roasted dandelion root with chai spices (think Cinnamon, Cloves, Ginger, Cardamom, Star Anise). We have then added just a hint of raw Cacao + a little touch of (secret) herbs to make it oh so right. A great alternative to that second cup of joe. And one you definitely need in your life.
INSTRUCTIONS: 1-2 teaspoon per cup.
---
Be a rebel and enjoy this brew in all its natural goodness black, or gentle simmer for 6-8 minutes in a milk base of your choice (almond milk is our go-to) then strain. In a hurry? Just do a combo of the above and pour hot water over the tea, sit, strain and top up with milk. Sweeten with a teaspoon of raw honey if desired. Take two deep breaths, remind yourself that you are awesome, then enjoy!