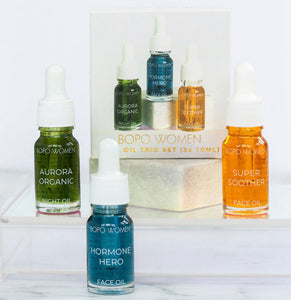 Blue Tansy Oil:  Rare and 100% natural, this oil is extracted from the Moroccan Chamomile flower and turns deep blue during the extraction process. Known for it's superior skin healing properties, particularly easing inflammation and balancing hormones.
Camellia Oil: Rich in vitamin A, B and E and essential fatty acids, Omega 3,6 and 9. This amazing combination allows it to penetrate and moisturise the skin easily without clogging pores or leaving the skin feeling heavy or greasy making it perfect for oil skin types and hormonal skin.
Organic Olive Oil: Packed with antioxidants and hydrating squalene, leaving your skin barrier extra soft and deeply nourished.
Organic Macadamia Oil: High in Omega 6 which forms a natural protective barrier for the skin and helps it heal while lightly softening and moisturising.
Frankincense Oil: Incredibly good for oily complexions as it helps regulate your skin's natural sebum.

Geranium Oil: A beautiful floral oil that eases inflammation, alleviates anxiety and balances hormones.
Rosehip Oil: Well known for it's ability to hydrate dry, itchy and sensitive skin thanks to it's nourishing anti-inflammatory fatty acids.
Ylang Ylang Oil: Beautiful floral oil that helps to balance our skin's natural sebum while reducing inflammation and calming your skin.